Likely no one is going to better convey the impact of your programs than those benefitting from them. Getting those voices on stage at your event brings the narrative from third person to first person quickly, and directly shows the impact of your work.
This year Ethos Music Center used this idea to drive the program of their event. Ethos believes that all kids, regardless of socioeconomic status or geographic location, deserve access to music education and they provide music lessons, classes, camps, performances and workshops to students across Oregon.
And they used their event to put those kids center stage to tell the story of impact that the organization is having on them. The event was co-emceed by two Ethos students, Rei and Henry, who from the top introduced themselves as musicians and outlined how Ethos had made this view of themselves possible. Having those voices on stage was also a constant reminder of what empowered kids who have found their voice sound like.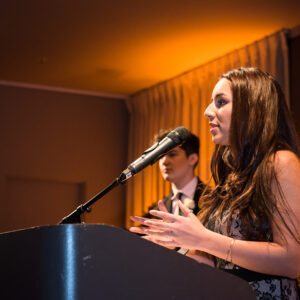 Rei framed the impact of Ethos for herself in her introduction to the guests:
"I am honored to be one of your emcees tonight. I am a former Ethos student. I am a singer. I am a musician. To me that means I had a place to go and to learn, to experience, to practice, to explore and know that even if I made a mistake I had the resources and support to find new forms of expression, test my skills and be brave. I think we need more places that teach us to be brave and give us permission to explore and grow.
For the past 19 years, Ethos has had a goal to build community through music. And that community feels to me like a family. A family of creative, expressive people like myself."
Having this testimony from the stage from someone experiencing it has far more resonance than the organization trying to convey that themselves. The audience got the chance to experience students, seeing the poise and insight they hold.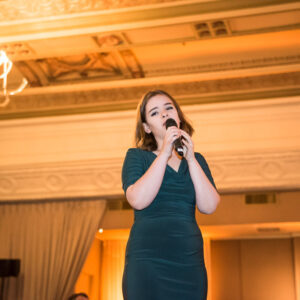 The audience also got to see the depth of Ethos' music teaching in action by seeing the caliber of student musicians on stage. The evening was peppered with student performances throughout the dinner. One of their students even sang a song and then made the ask for the special appeal. The evening culminated with the dinner moving into a concert with a lineup of only student bands, on a professional stage with a professional AV team supporting them. The event gave the musicians the spotlight and showed the care and confidence that Ethos has in those in their stead.