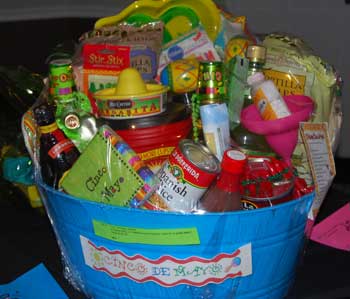 So your company or your social group wants to help a non-profit with some auction donations but you've run out of ideas about what to donate. Here are a few themed basket ideas that might stir the juices on what individuals can contribute to create a great auction basket.
Recently a Portland company wanted to support an auction and held an auction basket drive. Each department selected a theme and individuals brought in something small to contribute to their theme basket. The knitting basket was my favorite. There was a cornucopia of yarn colors, needles sizes, patterns, even gift certificates for lessons. So get your company, your friends, your neighbors, your organization involved with supporting a benefit auction and put together a great basket. Here are some theme ideas.
Auction Basket Themes
Gourmet Gift Basket:
Items for the chef in the family. Gift certificates for cooking lessons, gourmet food items, cooking utensils, specialty baking dishes, or favorite cook books.
Book Lovers Gift Basket:
Everything for the book lover. Books, magazines, gift certificates, a reading light, bookmarks, a reading blanket, tea, mug.
Martini Gift Basket:
Vodka, gin, vermouth, cherries, olives, shaker, glasses, decorative sugars and a martini book.
Knitting Basket:
It's all the rage. Yarn, how to books, patterns, crochet hooks, needles, gift certificates for local knit shops for lessons or supplies.
Baby Basket:
Items for the new mom. Outfits, burp clothes, and blankets, baby books, stuffed animals, bottles, rattles, teething ring, sippy cup, gDiapers starter kit, Baby Einstein video.
Picnic Basket:
Blanket, books on hikes in the NW, service ware, bug spray, wine, gourmet snacks, tablecloth.
Romance Basket:
Wine, chocolate, champagne, glasses, candles, bubble bath, massage oil.
Craft Baskets:
Craft Supplies, scissors, ribbons, glue, glue gun, craft books, gift certificate for craft stores, apron, paint brushes, paints.
Italian Food Basket:
Pasta, sauce, olive oil, breadsticks, cookbook, wine, olives, capers, dried herbs, cheese grater, packaged gourmet food items.
Hardware Supply Basket:
Flash light, took kit, tool box, repair kit, measuring tape, level, set of wrenches, set of screwdrivers, tool belt, gift certificates.
Dog Lovers Basket:
Dog bed, toys, treats, grooming kit, bowls, leash, pet frame.
Margarita Basket:
Tequilla, salt, glasses, shot glasses, lime juice, limes, book, blender, sombrero.
Family Game Night Basket:
Games, dice, cards, mugs and coco, snacks, score pad, pen.
Movie Madness Basket:
Popcorn, gift certificates for Regal, Hollywood, Blockbuster, Netflix, classic movie collection, candy, soda, movie buff book.
Tea/Coffee Basket:
Tea, coffee, mugs, French press, tea pot, tea bags, tea diffuser, coffee canister, coffee scoop, biscuits or cookies, coffee cookbook.
Fitness Basket:
Yoga mats, videos, weights, yoga bag, fitness bands, gym membership, yoga classes, gym bag, water bottle, sweat towel, sports watch, t-shirt, socks.
Pamper Basket:
Lotions, bubble bath, candles, mellow music, loofah scrub, bath pillow, slippers, eye masks, face masks.
Garden Basket:
Gloves, tools, shears, knee pads, seeds, books, magazines, gift certificates, bulbs, hose attachment, solar lights, hummingbird feeder.
Bird House Basket:
Bird House, seed, suet, bird books, humming bird feeder, binoculars.
Car Care Basket:
Car wash gift certificates, car care wipes, sponges, shammy, soaps, air freshener, gift certificates for service.
Music Lovers Basket:
CD', iPod, iTunes card, music store gift certificates, Rock N Roll history book, concert tickets.
Writers Basket:
Pens, stationary, journals, inkwell, notecards.
Breakfast Basket:
Pancake mix, scone mix, syrup, coffee, tea, mugs, spatula, dish towels, dried fruit, nuts, cook book, waffle iron, egg timer, egg cups, oatmeal, grapefruit spoon, juicer.
Home Makeover Basket:
Painting tape, edger, paint brushes, home improvement books, Home Depot gift cards.
Pinot Noir Wine Basket:
Selection of Oregon Pinot Noirs, wine tour, Pinot wine glasses, wine book, wine club.
Children's Book Basket:
Children's books under 3-6 years old, collection of classic and new books, a library starter.
BBQ Night:
NW Natural Grill with BBQ sauces, brushes, tool kit, BBQ planks, chef apron, BBQ book, gourmet rubs.
Kids' Toys Basket:
Summer fun for the whole family. Games, toys, and a fun toy box or wagon to haul them around in. Everything you need for a summer of fun.
Scrapbooking Basket:
Preserve family memories with everything you need for a scrapbooking fan. Books, stickers, scissors, hole punches, and all of the extra touches.
Mojito Summer Party Basket:
Rum, mint, sugar, glasses, pitcher, everything for a summery refreshing drink.
Herb Garden Basket:
Fill a gardening basket with starts for a kitchen herb garden. Include mint, rosemary, thyme, basil, cilantro, chocolate mint, lavender, sage, parsley, oregano, garlic, chives. Throw in some extra help with a herb garden resource book, trowel, sheers, and garden gloves.
Ducks Fan:
Everything green. Tickets to the game, Ducks t-shirts, pom poms, bumper stickers.
Beavers Fan:
Everything orange, game tickets, athletic wear, fan gear, souvenirs.
Gourmet Pizza Party:
Pizza cookbook, pizza stone, pizza cutter, and lots of gourmet ingredients. Olives, olive oil, sun dried tomatoes, garlic, basil, throw in a bottle of red wine.