There are many different revenue-generating activities that you can incorporate into your event to add elements of fun as well as offer different levels of giving to your guests. But instead of them being arbitrary activities, you can use them to create cohesion within your event and further engage donors in your work.
Columbia Land Trust works with landowners to conserve sensitive and critical lands in the Columbia River region. At their Wild Splendor event this year they took the opportunity to collapse their silent auctions into something more fun for their guests and, by doing so, created a larger fundraising opportunity for their organization and a connection to the mission of their work for donors while reducing their own workload in prepping and merchandising a silent auction.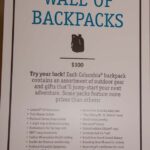 Based on the idea of a wine wall—where for a set price guests pull a blind bottle of wine off of a wall for a chance at some high end bottles—Columbia Land Trust put together a table of backpacks for sale. Each backpack itself was the same and then they were filled with gift certificates and outdoor oriented gear for a set price. All of it tied into the idea of enjoying the land, putting on a backpack and seeing the amazing places the organization has had a hand in helping conserve. The element of surprise for those purchasing backpacks by not knowing what treasures were inside, created a buzz at the event and they sold out fairly quickly.
The best parts? Guests looked great in their backpacks and the activity raised more money than their silent auction had previously. For the organization, procurement became a lot easier and more mission focused. It was a win-win that guests really enjoyed. So when taking a look at your event's revenue streams, look for opportunities to make your activities unique to your event and tied to your work in a way that continues to tell your story.