By Adam Weinger
Is your organization about to host your annual gala? Are you planning on making your attendees laugh until their faces hurt with a comedy night?
Have you thought about how corporate philanthropy fits into those kinds of events?
If not, then you should be!
Corporate philanthropy is loosely defined as the charitable actions of companies and businesses. More specifically, corporate philanthropy can take the form of:
Monetary donations to nonprofit causes.

Volunteer hours from employees.

In-kind donations.

And more!
But you're not here to just learn about corporate philanthropy! You want to know how the charity of businesses and companies can help you with your next fundraising event.
Well, you're in luck. We're going to dive into how these two concepts work together in practice.
Take a look at how you can pair corporate philanthropy with your nonprofit's next big fundraising event.
And click here to learn more about how the right elements can all come together to showcase your organization's work during an event.
1. Mention matching gifts and volunteer grants during the event.
During the course of your fundraiser, find an opportunity to talk about two of corporate philanthropy's top dogs: matching gifts and volunteer grants.
These two types of corporate giving programs allow donors and volunteers to double their donations and raise money for their hard work, respectively. After a supporter has given their money or time, they submit paperwork to their employer who will then reward their philanthropy by donating money to the nonprofit.
But many of your supporters might not know that their employers have such programs.
Shocking, isn't it? It is, therefore, your organization's job to let donors and volunteers know that they can double their donations and make their volunteer hours count even more.
And what better place to promote this type of corporate philanthropy than during your organization's fundraising event?
You have a captive audience (check!), a motivating speaker (check!), and enough time to get the message across (check!).
Use your fundraising event as a platform to connect with your donors and volunteers about corporate giving programs that might be within their reach. You should also follow up with them after the event is over to give them more information about matching gifts and volunteer grants.
For more tips on connecting with your audience, check out this informative article.
2. Ask for corporate donations.
One of the most straightforward ways to incorporate corporate philanthropy into your next fundraising event is to simply ask for donations from local companies and businesses.
These contributions might come in the form of a major gift from a large company or a series of product-based donations for several different events.
However the contributions make their way to your fundraising event, make sure that your initial appeal is genuine and sincere (as all of your fundraising asks should be!). Demonstrate your need and show the company how their donations will help you achieve your mission.
Additionally, you'll need to write a follow-up acknowledgement so that the company knows what their donation went toward. This acknowledgement can also serve as their donation receipt, which is important for tax purposes.
You can also offer companies exposure and positive press in return for their donations. Nearly every company wants to show that they are socially responsible; providing donations of any kind to a nonprofit fundraising event is one of the best ways to do so!
Companies donated nearly $18 billion to charity last year. Make sure your nonprofit isn't missing out on a piece of that enormous giving pie!
3. Invite your corporate sponsors to events.
How would you feel if you bought your best friend a birthday present but didn't receive an invitation to their party? You'd probably feel pretty crummy, right?
So why would your nonprofit ignore your corporate sponsors when you start building your fundraising event's guest list?
Your corporate sponsor might simply be a local store that has repeatedly given to your organization over the years, or it might be a larger company that gave a sizeable amount to your recent capital campaign.
Either way, your nonprofit should not neglect to bring your corporate partners on board when it comes time to raise the curtain on your next fundraising event!
If you add your corporate sponsors to your next fundraiser's guest list, you stand to benefit from even more donations during the event itself and in the future.
4. Leverage existing donor relations to make the most of corporate philanthropy.
Whether your church is trying to raise money for a new building or you're an environmental organization looking to save a few more whales, you can use your current relationships with supporters to find corporate partners that you didn't even know you had!
You might have a loyal donor who works for a company that is interested in expanding its corporate philanthropy initiatives. Or one of your supporters could be an executive for a corporation that regularly donates to nonprofits just like yours.
Whatever the case happens to be, you can use those connections to your event's advantage. Whether you need to ask for corporate donations or require service-based help for your next fundraising event, your corporate partners are waiting in the wings, ready to help!
Planning a fundraising event can be tough, and sometimes you need all of the help you can possibly get. While you may have a dedicated staff and an army of volunteers ready to ask for donations from your loyal supporters, even all of that backing sometimes isn't enough.
Instead of wearing your team out and running the risk of hosting a less-than-amazing fundraising event, look to corporate philanthropy and giving programs to give your fundraising the boost it may need.
By promoting matching gifts and volunteer grants, asking for corporate donations, inviting your corporate sponsors to events, and leveraging your existing connections, your event will be memorable for your donors and your corporate partners.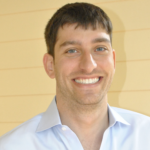 Adam Weinger is the President of Double the Donation, the leading provider of tools to nonprofits to help them raise more money from corporate matching gift and volunteer grant programs.