The Oregon Arts Commission recently held its annual Oregon Arts Summit in Ashland. This gathering of arts organizations, arts associations, elected officials, individual artists and arts professionals from around the state explored how they can work together to make communities stronger. The Summit will also served as a creative exchange for organizations to share resources within geographic regions and arts disciplines.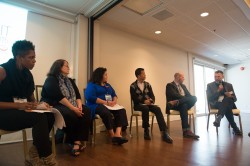 Often conferences or educational forums can start to feel like independent sessions not something unified under a common banner. This can be helped by making unification a goal planning.
When the speakers for the Arts Summit were solicited, they were asked to frame their sessions with the following three ideas: inspire the attendees, engage them to connect to one another and offer them tangible tools that they could take back and implement in their organizations.
Unifying the speakers with a common call to action that was participant-centered, added a layer of cohesion to all of the sessions that helped make the whole day of the Arts Summit feel organized and planned, each session connecting to the other.
When putting together your conference or educational forum, think about it through the lens of your audience. Why would you attend? What would you like to leave a session with? Who would you like a chance to connect with?
All events, and especially educational ones, are the intersection of information and user. When you help encourage that intersection to happen in an effective way, the impact of your content will be that much more.
Photos by Jenny Graham